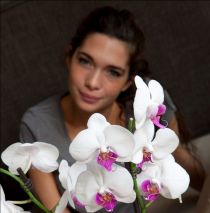 Zina Glou
[Designer]
Zina Glou
[Profile]
Zina Glou, we met her as the youngest designer who participated in Athens Xclusive Designers Week. Now she is ready to graduate from the Istituto Marangoni of London. After three years of studying in Milan, Zina transcribed to London to complete the cycle of studies related to fashion design.
Despite the fact that she is only 21 years old, the young designer notes to her resume two entries in the organization of international fashion week collections, characterized by elegance and style.
The fabrics chosen are airy, with intense slides ideal to showcase the female curves.