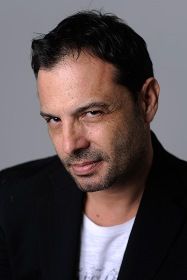 Tassos Mitropoulos
[Designer]
Tassos Mitropoulos
[Profile]
His career in fashion begun at a very early age, designing men & women's fashion knitwear collections using embroidery and hand painting, always in his philosophy of wash garment to be unique.
At the age of seventeen he presents his first fashion show and at the age of twenty-three he creates his first company of designing and producing handmade knitwear. In the same time he studies design in Rome at the academia Dell'art and after graduating he is enriching his collections, designing evening and casual wear, using luxurious materials like leather and fur. His label also carries a special line of accessories.
Recently Tassos Mitropoulos delivered his first collection of exclusive wedding gowns.
The designer's passion for innovation is visible from his expertise in combining unconventional and controversial materials in a unique ultra feminine style.
His collections are sold exclusively in boutiques and department stores all over Greece and abroad.