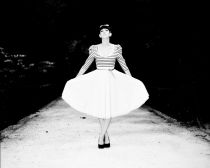 Tammy's Archive
[Designer]
Tammy's Archive
[Profile]
Tammy was born and brought up in Thessaloniki. She studied Pedagogy at the "Technological Institute of Thessaloniki" and Fashion Design at "Demetrelis Art and Design Institute". She has also studied theatre and has written illustrated children books. Tammy produced her own line of hand-made jewelry and in June 2010 she successfully completed her studies in fashion design at AKTO Art and Design College. She then participated in the annual triumph competition for the "Triumph Inspiration Awards 2011". Her piece was selected for the on-stage performance of a popular singer. She has also participated in the "Texmedin European Design Challenge" for the F/W 2012 as a first-introduced fashion designer in the Athens Fashion Week. Her first S/S 2011 editorial included 9 outfits directly referring to romanticism and new-classicism.
Tammy's love for fashion is spontaneous and inexhaustible. She gets her inspiration from various art sectors and she strongly believes that clothe making is the art of painting on a white canvas which is the human body. Her inspiration is also derived from the new-romantic pin-up aesthetics with retro characters and a post-modern touch. In Tammy's creations, femininity is brought to zenith. The dynamism of contemporary women is also expert in the best way possible.
In her first S/S 2012 collection, Tammy gets her inspiration from the rockabilly epoch and create clothing of high aesthetics and quality.