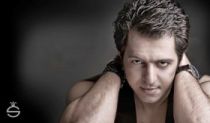 Stylianos
[Designer]
Stylianos
[Profile]
Stylianos was born and raised in a family of couturiers. He studied at the legendary instituto Marangoni in Milan and since 2008 he is the creative director in the Bridal house KONSTANTINOS.
His previous collections that presented at the AXDW amazed the audience, firstly with the fantastic finale of Doukissa Nomikou wearing the well-known bridal dress with 1800 hand-embroidered Swarovski crystals (Antithesis collection, fw2012-13) and a season later where Stylianos was honored with the "Best New Designer" award (Sayome collection, ss2013).
The brand name STYΛIANOS started expanding abroad with greatest accomplishment the designing of an exclusive line for "ALPHA STAR aviation", the private airways of the Royal family of Saudi Arabia.
Always following his vision for high-end unique products, Stylianos was led to create his own flagship atelier in Kolonaki Athens, in the heart of the most luxury and niche market in Greece. London, Doha and Istanbul are his next business destinations according to a 5 year business plan he follows since September 2013.