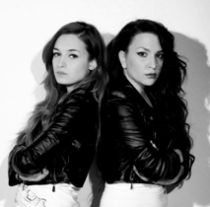 streetGeAr by Gena & Argi
[Designer]
streetGeAr by Gena & Argi
[Profile]
Georgia Pernarou (Gena), born in Limassol of Cyprus and Argiro Kalliafa (Argi), born in Gouria of Messolonghi. Both of them are following their dream of their childhood. They were studied fashion design in AKTO in Athens.
These two are the design duo StreetGeAr. Having developed a special bond during their studies until today and with the same passion and love for their subject, they found the "golden section" in their creations and style, since every one of them had already developed its own distinctive style .  Sportswear and Glam Rock, respectively, therefore, come together to create a fresh street note in Greek fashion industry.
Clothes with aggressive personality inspired by figures of the "street" and legendary persons and idols with their unique and quirky style left their mark in the history of street wear and fashion in general. Main features of their creations is the dynamic style, man and woman's look, 80's shapes, with their focus on the sharp contrasts in fabrics and on dramatically cuts.
Designing for women, men and children, their goal is to add a perspective to our everyday life and to succeed and distinguish in fashion industry.