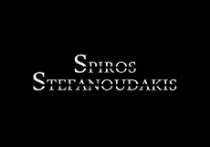 Spiros Stefanoudakis
[Designer]
Spiros Stefanoudakis
[Profile]
The Fashion brand "Spiros Stefanoudakis" launched the market in 2012.
With its 2nd collection the designer "Spiros Stefanoudakis" won the "Best New Designer" award at the 13th Athens Xclusive Designers Week, which was held in March 2013.
The designer has collaborated with many artists, stylists, TV shows and magazines.
The fashion brand creations have been hosted in the pages of magazines such as EGW weekly, Madame Figaro , OK , Celebrity , Marie Clare , Down Town Cyprus
Celebrities as Paola, Katerina Stikoudi, Thomai Apergi, Marianta Pieridi, Courtney Parker, Polina Christodoulou, Nina Lotsari, Vegas, Kings, Christina Salti, Katerina Papoutsaki, Nikos Gkanos, Kostas Fragkolias have chosen the brands creations for their appearances.
The brand has been featured in TV shows such as Dancing With the Stars (ANT1), Just The Two Of Us (MEGA TV), Proino Mou (MEGA TV), JOY TV (SKAI Chanel)