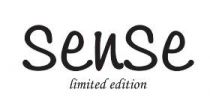 SenseLimitedEdition
[Designer]
SenseLimitedEdition
[Profile]
Εvening wear /special occasions/ 16 fashion stores in Romania and international customers.
Sense is one of the brands belonging to the Caremil Company, which conceives and produces top quality clothes for our customers from around the world. Over 90 % of the goods are made for export to France, Germany and Italy.
Andreea Tincu signs Sense's collections since 2008.The line SLE is very elegant, materials used are of first quality, her design is trendy and chic.