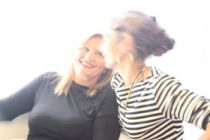 Rita Pateroni
[Designer]
Rita Pateroni
[Profile]
"Φ"
Is the name of the collection that will be presented by Rita Pateroni on 30/ 3/2013.
The designers will present a different approach to fashion of the winter 2013-14.
This event is promoted as an Art Performance and not a Fashion Show.
It is an attempt to connect mathematics, physics, art, sensitivity and elegance, and will show how they get their inspiration from every aspect of nature. There are moments that the complex structures and the elaborate work is screaming at first glance. Other times, a more cautious approach is needed in order to discern the glory of the most minimalist side. But this happens to be something magnificent.
So how starting from the base, we arrive at an aesthetic effect, in which the classical modern art evolves in a modern form.
The effort is to see not only the result, but to explore the mindset of the designers.