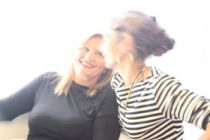 Rita Pateroni
[Designer]
Rita Pateroni
[Profile]
Rita Pateroni fashion house is based in Athens Greece. 
The designers of the brand, Rita and Liana, design the haute couture garments and wedding gowns that are distinguished for the quality, aesthetics and timelessness. Every season Rita Pateroni is not just following the trends, but it makes sure it creates new fashion. 
The creations are emphasized on femininity and true elegance. Rita Pateroni is synonymous with artistic and passionate designs, a combination, of elaborate neo-romanticism, and clean cut minimalism. Rita Pateroni has an atelier in Athens, and three boutiques in Greece, Kolonaki, Thessaloniki, Syntagma, and recently has opened a new boutique in Qatar-Doha.