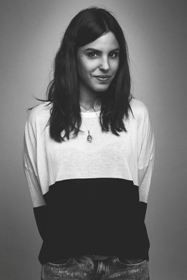 Patricia Adam
[Designer]
Patricia Adam
[Profile]
Patricia Adam completed her studies of technical apparel styling at the Art & Design School Barreira in June 2012. In the summer of 2011 she began her training in industrial pattern specialized in woman's wear. That same year the Valencian designer was the winner of the Peronda Ceramicas award for the best collection of Valencia Fashion Week Zone D, with her first collection S/S 2013 "L´Atmosphere".
In February 2013 she presented her second collection A/W 2013-2014 "Chrysalide" during  the Valencia Fashion Week at the profesional show, receiving very positive feedback.  She has also participated in September with the collection S/S 2014 "Âme". In June she was asked  to collaborate and join other Valencians designers in the catwalk for the AECC (Asociación Española Contra el Cáncer).
2014 began with the collaboration in the Peronda Fashion Lab with her first ceramic collection, that supports her to participate in Athens Xclusive Designers Week, with the collection A/W 2014-2015 "Foxhunt".
She is currently working on new projects and the dissemination of the firm