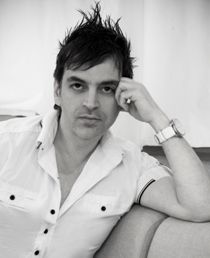 Paris Valtadoros
[Designer]
Paris Valtadoros
[Profile]
Paris Valtadoros was born in Macedonia, Greece. His apprenticeship in the secrets of female's clothing commences within the family business in his early years. As a young man, he's moving to Athens initially for studies in economics, only to abandon them after a short period in order to follow his inclination.
At the beginning of his professional life toward women's garments, he works as purchasing manager at known clothing company, while at the same time he cooperates with the national television as a stylist and with women's magazine as a fashion advisor. Following the opening of his first prêt a porter boutique in Naxos Island, he meets his need to express himself through his personal creations, by attending the AKTO's course of studies in Fashion Design, in which he succeeds .
Since 2008, he dedicates himself on haute couture in his atelier, where his collections are designed and materialized, while few years later, following the success that his bride collections receive and moreover fascinated by the sui genesis personal relationship which developed between the designer and the woman, he transfers his atelier in a new establishment where he exclusively accepts the future brides, retaining the original one as haute couture show room.
His garments are distinguished for their avant-garde lines; strictly geometrical shapes, fading in the sensuality of female silhouette, are defining the postmodern stamp of the designer.