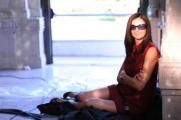 Paola Frani
[Designer]
Paola Frani
[Profile]
Paola Frani began to design clothes for women at a very early age. She was born and still lives in the land of Fellini's 'Dolce Vita', Romagna, where there are strong entrepreneurial traditions and a powerful, cultural vivacity. Indeed, some sociologists call it 'the pleasure zone', as it is an area where culture, art, entertainment, and new trends merge.

Paola Frani has developed her own conceptual style that is always fascinating and ahead of the times. The collections have numerous reference points, from the cinema to contemporary art. Schifano, Schnabel, Futurism and Pop Art are just some recurring examples.

The designer's work has a personal and strong identity mark that differs from many other italian brands because of its originality, which is far from the usual clichés and is not standardized, something which often characterises the large fashion groups.
Paola Frani line is a Pret à Porter total look woman collection and it is addressed to a contemporary woman, whose age ranges from 25 - 50 years, and who loves to bring out her sophisticated femininity both in the working days and in the free time. The fabric and the materials used are always of excellent quality and they are the result of a careful research.
Today Paola Frani line is an international star; it appears on the catwalks at Milano Collezioni and an elegant and refined microcosm has been created around the label.