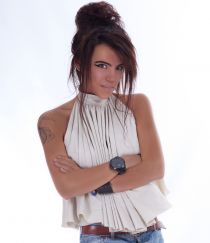 Ourania_Kay
[Designer]
Ourania_Kay
[Profile]
Ourania_Kay was born and raised in Athens. After graduating from London Metropolitan University with a bachelor with honors in Business Finance, she decided to combine her studies with her passion and her creativity and she left Athens to study in ESMOD Paris. After graduating, having her diploma in Fashion Design and Pattern Drafting, she worked with many great names of Fashion industry such as Hussein Chalayan, with big fashion magazines such as Grazia Paris, and with international exhibitions such as Salon de Prêt-a-porter and Premiere Vision.
Her designs always have a strong identity and innovative spirit while they elect femininity combined with structural lines and alternative fabrics. Her collection "Chapter 1: Urgent Cases", which was inspired from the straightjacket, was introduced in the 8th AXDW and won the award for "Best Catwalk", while her second collection, "Chapter 2//illusions" convinced even the most distrusful.
So, in her third collection "le montAge du nuAge" she differentiated her style by using lighter forms, avoiding monochrome pallets and by offering an audiovisual show that was characterized as one of the best of the week.
In this collection a/w 2012/13 "Stigma", she will prove that every source of inspiration can be revived from today's elements giving a quite modern and personal stigma.