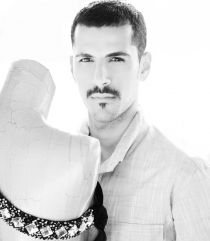 Odysseas Papadogiorgakis
[Designer]
Odysseas Papadogiorgakis
[Profile]
Born on 2nd July in Chania, Crete, Odysseas Papadogiorgakis initially studied Hotel Administration and worked in a travel agency for approximately 5 years.
His interest and vocation for fashion spurred him to get involved with styling and window dressing for many local businesses. As he was spending long hours in a friend's atelier watching every stage of a garment -from designs and patterns to sewing- he realized that only through fashion would he be able to express his talent and artistic pursuits.  He decided, then, to study fashion design in Athens, specifically in Veloudakis School of Fashion.  At the same time, he continued working as a window dresser in the women's and children's department of α large multinational group of clothes stores.  He also freelanced for other companies.
After completing his studies, he was employed in his school as an assistant Professor in patterns and styling.  In addition, he worked beside accomplished fashion designers.  As for his passion in styling, he is still engaged for the showcases of Blangrecia, Diagomoda Group.
Hence, he turns to the clothing market with articles for the man and the woman, both with exquisite creations and with casual ones.  His clothes, which stand out for their quality and detailed work, bear the mark of the designer's personality representing an alloy of unpretentious finesse with hues of romanticism.
Since his first venture on the catwalk of Athens Xclusive Designers Week , he has also turned to a different field of clothes making for dogs.  This attempt involves useful dog clothing and accessories with respect to canine nature.