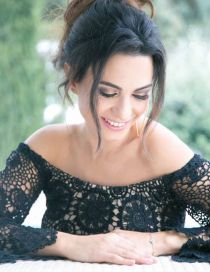 OCEAN BLUE BY MARCIA THRASYVOULOU
[Designer]
OCEAN BLUE BY MARCIA THRASYVOULOU
[Profile]
Marcia Thrasyvoulou is the designer behind the luxury lifestyle brand OCEAN BLUE. Born and raised in a Mediterranean island herself she knew how to effortlessly dress from beach to summer parties.
Marcia's designs are aimed in feeling every woman feeling confident, stylish and glamorous without being too loud. They are all adjusted to the Greek island summer lifestyle.
Many of her designs have been selected as trendsetters and published in the trends sections of professional and fashion publications such as Madame Figaro, Harper's Bazaar, Cosmopolitan, Intima bain and Mondanite.
In 2011 Ocean Blue was chosen to showcase at the prestigious L'Ultra Fashion show at the famous Pavilion Cambon in Paris.
She is currently the Vice President of the Cyprus Fashion Designers Association and the first Cypriot to be on the cover of Harper's Bazaar magazine.
In March 2012 she is elected "Fashion Designer of the Year" at the MADAME FIGARO Woman of the Year Awards Ceremony