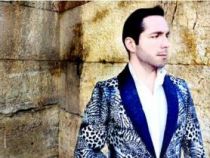 Nicolaos
[Designer]
Nicolaos
[Profile]
Nicolaos (Papazisis) was born and raised in Athens. He stems from a family of craftsmen menswear.
At the age of 16, along with two last classes of high school, he started his studies in fashion design and styling at Pan-sik school of fashion. He started working in magazines in 2004 as well as making video clips, and decorating windows in shops. In 2011 he took the decision to create his first men's collection, named "Nicolaos", and, in the same time he runs his first store "Diverso" and works as a stylist in ANT1 productions.
On March 2013 he presented his first Menswear collection "ArrenWalk", at 13th AXDW, and on October 2013 his second collection "God save the queen". The following year "Nicolaos" clothes were presented at Mercedez-Benz Berlin Fashion Week.
This year, "Nicolaos" returns to AXDW with his new collection "Psychosynthesis of Artemisia" inspired by ancient Greece and Persia. "Nicolaos" is launching cork as a brand new material on clothes, for the first time in Greece.
....forget the past
DREAM THE FUTURE!!!