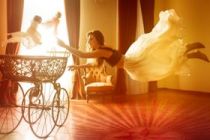 Nella Ioannou
[Designer]
Nella Ioannou
[Profile]
Nella finished her primary studies of social sciences and graduated from the Law School of Athens in 2005.
After that, she studied at "Veloudaki" Fashion School, where she had the opportunity to gain knowledge about fashion design, styling, aesthetic education, patterns look, coloring and fashion history.
After her studies of fashion design, she joined the famous "LOUKIA atelier" where she worked as designer for three years.
After that she worked for the world known MISSONI and she was responsible for sampling and promoting their creations. Additionally, she designed her own casual clothing collecion named "AA"
Since 2006 she has participated at numerous Fashion Weeks in Athens and Thessaloniki, as well as in Milan and Paris.
At present Nella has her own atelier in Patras. Since 2007 she has created ten individual Collections, with focus on "Haute Couture" clothing and "de Loux".