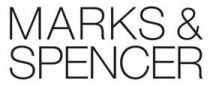 Marks and Spencer
[Designer]
Marks and Spencer
[Profile]
Marks & Spencer was founded over 130 years ago and currently has over 760 UK stores and over 420 international stores in over 50 markets across Europe, the Middle East and Asia. Marks & Spencer is one of the UK's leading retailers, having over 1,000 stores around the world. 20 million customers visit its stores each week and has over 81,000 employees across the globe.
M&S sells high quality, great value clothing and home products as well as outstanding quality food. The first M&S store in Greece opened in 1990 and today, we have 30 stores across the country (e.g. Athens, Thessaloniki, Rhodes, Corfu, Crete, Patra etc.).
Our unique heritage and constant innovation have helped us offer to our customers' clothes and food of outstanding quality for all family members.