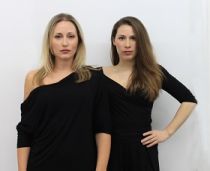 Marilia Christina
[Designer]
Marilia Christina
[Profile]
The brand MARILIA CHRISTINA was born through the homonymous design duo, Marilia and Christina. Being sisters, they are the third generation of the family who choose to follow the world of fashion. Growing up in it because of the family company, their advantage is itself their rich aesthetic heritage.
They took over the family business (VIRGIN PRUNES) adding their own personal style. But the amount of energy and imagination in their work gave birth (on June 2015) to the second brand (MARILIA CHRISTINA) which presents a more minimal aesthetic, drawing inspiration from the simplicity of natural forms in order to highlight the feminine beauty in the most purest form.
Today, the brand is a constantly growing company with a respectable amount of cooperative stores in Greece and Cyprus.