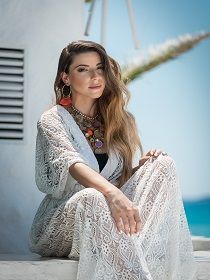 Marianna Damianou
[Designer]
Marianna Damianou
[Profile]
A Grecian girl at heart, Marianna Damianou born in Cyprus and studied Education Studies at the Liverpool John Moores University and got her Master's degree at the Leeds University. She practiced her teaching skills for a year but her passion for creativity and the fashion world led her to AKTO School of Design in Athens, to study Fashion Designer.
As soon as she graduated, she created her own clothing line with her signature name for luxury beachwear. She then engaged with custom made creations which are more of a couture style including evening gowns. Her label also carries a special line of accessories.
She loves embroideries, lace, airy fabrics and her innovation is to emphasize the feminine silhouette. Taking inspiration from everything around her, she promises to make the fashion conscious lady stand out in the crowd.