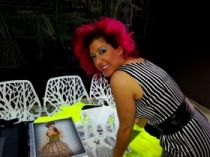 Maria Vytinidou Luxury Handwoven Design Brand
[Designer]
Maria Vytinidou Luxury Handwoven Design Brand
[Profile]
Maria Vytinidou is a Chemist and graduate of Central Saint Martins and London Collage of Fashion.She is also the Founder of "AthensFashionClub" School and her Showroom is a luxury loft down town Athens.
She creates Wearable Technology garments and pret-a-porte deluxe womanswear.
Her company has been awarded at international competitions for innovation and entrepreneurship in the field of nanotechnology, such as the Startupbootcamp HighTechXL in Eindhoven as one of the best 20 high tech companies worldwide, the Orange Grove Programme of  the Dutch Embassy in Athens and Panorama Entrepreneurship 2014 for the presentation of the first Solar Jacket with flexible photovoltaic that can charge a mobile phone.
In September 2015, the exhibition Fair "Première Vision" in Paris made a special tribute in the Première Vision's magazine for Maria Vytinidou as the first Greek Fashion Designer  and the one of the most Innovative brands worldwide for Wearable Technology products.