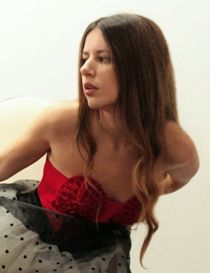 Maria Tagalou
[Designer]
Maria Tagalou
[Profile]
Maria Tagalou was born in 1990 in Athens. She attended classes of free design and color in the Free Studies Workshop "Sarasitis Mpelntekos" and she studied in the "Veloudaki Fashion School" (graduation with full marks).
She did her practice in Vasilis Zoulia's atelier and worked in the "Topos Allou" theater for 2 years (2009-2011) (set/costume designer assistant).
Also, she has designed the costumes of the play "The Spectacle" and the video clip ''I want to stay here''. In cooperation with the Sony BMG
she designed a jewel which was exhibited at the Benaki's Museum. She participated in 14th Athens Fashion Week and in Athens Xclusive Designers Week. Her creations were displayed in: City Fashion & Fusion, Boxing Days, Flowering, Golden Wishes exhibition and were published in: PRESS IN FASHION (Canada), SEVEN (NY), KNEON, CHASSUER, VOGUE IT, free theme, ESPRESSO, TV BOX.