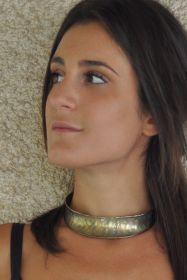 Maraveya
[Designer]
Maraveya
[Profile]
The design philosphy behind Athens based womenswear label "MARAVEYA", is to create collections that are minimal yet have a strong identity. The brand designs for women with modern ambition, who alter between various surroundings and seek to be comfortable and effortlessly chic. 
Designer Vivianna Maravegias draws inspiration from cultures and lifestyles, and tries to convey the essence of these through her garments. The label's debut collection, featured a series of day to night pieces composed of light and airy fabrics, that were inspired by island culture in Greece during the summer months. For Autumn/Winter 2012, Maravegias was inspired by the idea of Nomadic life and how the concept is redefined in the modern world and specifically in the modern woman.
Nomads are widely known as peoples that are always on the move, searching for better living conditions as they go; this is in essence a phenomenon that we are experiencing in modern societies worldwide and even more so in Greece at a time of political unrest and economic recession. Taken from the ideas of motion and change, the Autumn Winter 2012 collection combines elements of nomadic necessity dressing with femininity and modern edge to redefine what a nomad means in our time.
The company aims for all garments to be unique yet wearable, and cater to a variety of women from around the globe. The MARAVEYA team love to indulge in many different concepts as a source of inspiration for their designs, however their challenge is to always keep an element of their own heritage while working within the realm of various worldly ideas.