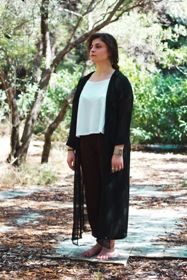 Mal-le by Aggeliki Maleviti
[Designer]
Mal-le by Aggeliki Maleviti
[Profile]
Aggeliki Maleviti lives and works in Athens. She is a 2014 Akto/Middlesex University of London BA graduate in Fashion Design.
She participated in the 16th Athens Xclusive Designer Week, presenting her first collection (S/S  2015) on the subject of the Sirens of Greek Mythology. This year, at the 18th Xclusive, she will present her second collection (S/S  2016) on the subject of the river of Styx.
Her clothes address to dynamic, independent and also XL juicy women. The lines of her clothes are geometrical, sensual and feminine.