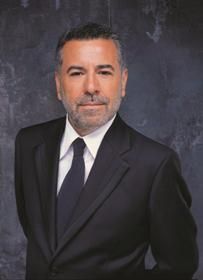 Makis Tselios
[Designer]
Makis Tselios
[Profile]
Makis Tselios is not just a fashion designer, but is a true artist from the legendary Ionian Islands.  He was born on the island of Ithaki.  At the age of seven his family moved to the mainland seaport of Piraeus where he grew up.
He has created his own history through his innovative designs and unprecedented fashion shows which, for the first time in Greece, featured international models.
At his atelier at 6 Hrakleitou Street in Kolonaki, Mr. Tselios designs a collection of haute couture and wedding dresses.
Also, Makis Tselios creates a unique line of men wear "Makis Tselios Homme" modern and classic creates a line for young women MAKIS TSELIOS YOUNG WOMAN Y.♀. W , designs cravates for men " MAKIS TSELIOS cravates" and a new line of classic shirts , a line of white stuff for home " Makis Tselios Home ",a line of new born children " Makis Tselios Baby '' and wedding accessories ''Μakis Tselios wedding accessories '', and a line of men and women umbrellas " Makis Tselios Umbrellas" .
Up to the present moment, many companies' airlines, sealines, tourist companies' e.t.c. have assigned to MAKIS TSELIOS FIRM the design and creation of their personnel's costumes.