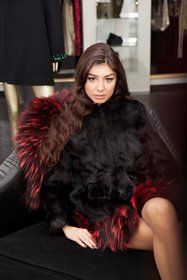 Maison Anna Dorothea
[Designer]
Maison Anna Dorothea
[Profile]
Anna Dorothea was born in the beautiful city of Cyprus, Limassol. In her early childhood Anna already had a refined taste for a young lady and she was fascinated by beautiful garments. From a very young age she already started to design her own clothing and have them tailor-made for herself.
From the age of 15, Anna was working as an international model travelling to Shanghai, Milan, Athens and other fashion capitals. Modelling was the entrance for Anna to enter the world of fashion and luxury where she soon decided she wanted to become a fashion designer on her own.
After high school she directly moved to Milan where she graduated in 2011 from Instituto Europeo di design, moda lab Milan, Italy with the title of a 'young and promising' creative director.
In 2012 Anna presented her first fall winter collection in Cyprus and immediately after that she started selling her garments in luxurious boutiques in Cyprus.
After her fashion show, she moved to London to study in Central Saint Martins where at the same time she was preparing her new Spring Summer Collection.
Anna is now expanding her brand internationally having her own flagship store in Limassol.