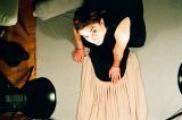 MAAN
[Designer]
MAAN
[Profile]

Following a seven-year stay in London, Marilena returned to Greece in 2003 as a graduate of Central St. Martin's, with a Master's in Marketing and Management and diverse work experience, ranging from high-street stores to high-end designers.
MAAN was founded in 2005; the result of frustration, disillusionment (and vision). Grateful for good timing and fortunate coincidences, MAAN grew to be a mainly exporting company in less than two years. Conceived in a tiny studio in Kolonaki, in central Athens, each MAAN collection can now be found in carefully selected boutiques worldwide, from Paris and Rome to Tokyo and Osaka.
Our philosophy is simple. We want our clothes to be worn day after day and year after year. We give great attention to our patterns in the belief that therein lies the secret to style, class and comfort. Our collections do follow fashion trends, but deep down it is timeless originality that we aspire to.
Our fabrics are carefully chosen, with an emphasis on how they fall, fit, and feel. Most importantly, we want our clothes to be accessible to anyone who is caught by them.
We know that we just make clothes, and that we will not feed the world making them, but at the same time, we appreciate that sometimes clothes do make us feel better.