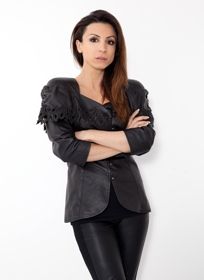 LKC by Loukia Kyriakou
[Designer]
LKC by Loukia Kyriakou
[Profile]
Born in South Africa to parents originally from Paphos Cyprus, Loukia studied Physics at the Aristotle University of Thessaloniki and got her Master's degree at the University of Middlesex in London. She practiced the profession for 1 year, but her love for fashion urged her to return to South Africa and there she studied Fashion Design. She interned at one of the biggest couture houses in South Africa' for Peter Pondisio.
Returning to Cyprus she opened her own studio called "LKC couture" in Paphos, where she uniquely prepares custom made pieces for clients both in Cyprus and abroad
She took part in the "Cyprus fashion days" on November 4, 2012 which was her first nationwide participation in a fashion event.
On the 31st of March 2013 she participated in the new designer division of AXFW and won the best catwalk Award. October of 2014 she won the title of the "Best New Designer" in Athens at the Athens Xclusive Designers Week and since then has been producing collections for the Underground label that is based in Athens which is also the more affordable collection.
LKC Bridal is also a big part of the brand and is now in full effect with the most exquisite fabrics and most unusual details with sheer fabric being the most distinct characteristic of her pieces.
In 2014 she was a nominee for the Madame Figaro "women of the year" awards in the fashion designer category.