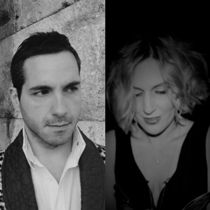 King & Queen
[Designer]
King & Queen
[Profile]
Nicolaos (Papazisis) was born and grew up in a family that deals with fashion since 1949. In 2004 ended fashion designer and stylist in the fashion school Pansik and to date dealing with this. He has worked as a stylist in many magazines and fashion weeks such as MODA Athena and VOGUE fashion week Athens and he had the same role in very successful shows on TV.  During the fashion event ''Madwalk'' he worked as a stylist in the team Vrettos Vrettakos in 2011. He took part in two shows for the brand "Nicolaos".
Elissavet Zitouniatis studied Museology and Archival. Apart from that she has a Master in Marketing. She is the author of two children's books and teacher in IEK. In 2013 she got involved with fashion marketing in both Nicolaos' shows in AXDW. She has been a key factor for "Nicolaos" participation in the Mercedes-Benz Berlin fashion week.
Nicolaos and Elissavet, after their successful collaboration decided to create a new Brand called "KING & QUEEN". For the show F / W 2014-2015 by KING & QUEEN they want to present to the public a collection based on the quality and the correct seam to donate a "com il faux" touch to our next winter.