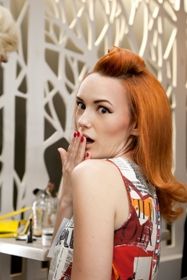 JOY KOUMENTAKOU I MADEBYJK
[Designer]
JOY KOUMENTAKOU I MADEBYJK
[Profile]
madebyJK is a POP womenswear & accessories brand created by Joy Koumentakou. Joy was born in Athens and initially studied marketing at the American College of Greece, pursuing then a Master of Business Administration in Strategy. In 2001, she started her career in the advertising field, working for advertising and multinational companies up to 2007, when she established her own advertising agency.
Eventually, her love for fashion led her to create a series of unique handbags, naming her brand "madebyJK" after her initials. Succeeding to penetrate the Greek market from the beginning, Joy continued her studies in Fashion Design, while, on January 2014, she presented her capsule collection of womenswear with a POP twist.
On September of 2015, her collaboration with more than 150 stores all over Greece, lead her to pursuit an international exposure of the brand, by presenting her collection in Milan. One month later, Joy was awarded with the "Best Trendsetter Award" during her participation at the 18TH AXDW, for her "Glam Pop" collection.
Believing in the bright side of life, Joy Koumentakou aims to provoke women to think positive, by wearing her joyful collections, characterized by their pop prints and their bright colors!