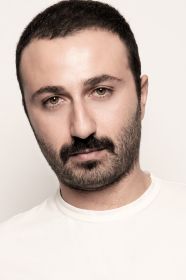 jeAnS
[Designer]
jeAnS
[Profile]
The man behind the label "jeAnS" is Antonis Spathas, who commenced his studies with a Bachelors in Financial Economics and Marketing, but his passion for the Arts led him to two global awards in body-painting and to an 8-year career as Make-up Artist in an international high-end cosmetics company. In parallel with the make-up industry, Antonis completed his studies in hairstyling and participated in training courses in Hamburg, Zurich and Greece.

For the past three years he is also the Art Director of Athens Xclusive Designers Week, where he worked with international fashion designers, such as Vivienne Westwood, Emanuel Ungaro and Barbara Bui, being in charge of all the looks during their shows.

On October 2010, Antonis introduced himself in the catwalks with the label "jeAnS", having its first preview collection based on denim. The show's spin was targeted on the models changing their multi-shaped clothes on stage, resulting in totally different looks. This particular element as well as his overall collection received very positive feedback.