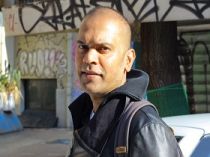 Janaka Kalupahana
[Designer]
Janaka Kalupahana
[Profile]
Janaka Kalupahana was born in Sri - Lanka. He has finished his higher studies there.
In his early twenties, he started his career as a hair dresser and stylist with the well-known beautician Nayana Karunaratna in Colombo - Sri Lanka.
Meanwhile moving to Europe he was continuously interested to involve in fashion industry. In the beginning he attended seminars in Fashion Design and Jewelry Design in some Institute  like Mikro Polytexneio, Thiseio - Athens and abroad as well.
Right after he followed full time courses about fashion design and construction in PanSik Scuola di Moda.
Right after he did his internship at the atelier of Mr. Vassilis Zoulias.