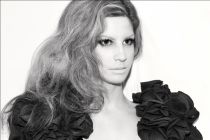 Irene Lytra
[Designer]
Irene Lytra
[Profile]
Irene Lytra-Routzerakh was born in Glyfada in 1991 and she has been interested  in designing since she was 15 years-old. She studied Fashion at Fashion School Intergraphics. The last two years she is been actively involved in fashion photo shoots and fashion shows
She is a creative member of the brand Celebrity Skin under the supervision of Dimitris Strepkos - Eleni Mparla.
She presented samples of her work at A.F.W (October 2010/March 2011) within the framework of the Fashion School Intergraphics program.
Presents her new collection for spring summer 2013 at AXWD
Inspired by New Age and Gothic art, she is experimenting with new  styles and avant-garde combinations of fabrics. She addresses to the woman that she wants to be effortless Chic.