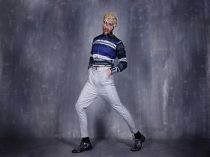 Ioannis Roumeliotis
[Designer]
Ioannis Roumeliotis
[Profile]
Ioannis Roumeliotis, always genuine and eccentric, stands out thanks to his special viewpoint and boundless talent. His name is deeply connected with every aspect of contemporary Art, from direction, fashion design, graphic design, interior and exterior architecture to performance art, photography, video art, experimental and fiction film.
With Bachelors and Masters of Arts as well as scholarships at reputable universities of the world's metropoles such as Berlin University of the Arts (Universität der Künste, UdK), California Institute of the Arts (CalArt), London and Seoul, Ioannis returns to his mother-country to give another form to his ideas, dreams and personal beliefs, transubstantiating his creativity into high quality clothes, accessories and other fashion objects, covering the contemporary body with art pieces.
Mad TV announced him as the 'Best New Greek Fashion Designer' in 2015 and at the Madwalk event organized by the channel, Ioannis presented one of the most talked-about and innovative acts of the night. Ozon Magazine and Fashion Room Service, respectively, honored him with the same title as well. His creations are appearing in greek and international fashion magazines and sites.