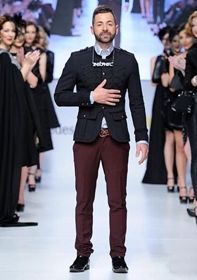 inSomniac
[Designer]
inSomniac
[Profile]
Spiros Stefanoudakis was born at one of the Saronic Islands, called Poros.
At a really young age he was marked by his tenacity to succeed in the sport of rowing where he won 27 medals in total. However his ambitions did not end there.
Spiros Stefanoudakis debuted at the 12th Athens Xclusive Designers week with the S/S 2013 collection "GeneSis".
His second collection "Le Piaf Noir" was presented at the 13th Athens Xclusive Designers week in March 2013 and won the "Best New Designer" Award.
Since then Spiros Stefanoudakis has collaborated with a lot of artists and stylists, making big steps in the Fashion Industry. Singer Polina Christodoulou has chosen INSOMNIAC creations for her performances; singer Christina Salti is also wearing clothes by Spiros Stefanoudakis in her Video clip.
Pop Icons "Vegas" also chose INSOMNIAC for their latest on stage performance; costumes were made 'Exclusively' for this appearance.