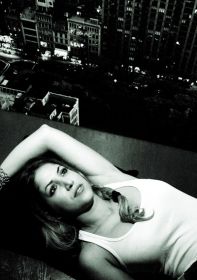 H-era
[Designer]
H-era
[Profile]
Hera Limniotaki was born in Iraklion, Crete. She studied English Language and Literature in the Aristotle University of Thessaloniki. After working in the field of education for quite a long time her true love for clothing and creation sent her to Athens where she studied fashion design, pattern making and styling in Veloudakis Fashion School. Ever since, she has launched her own line of clothes and accessories under the label H-ēra.
She joined the Athens Fashion Week in 2010, in a show dedicated to new designers, with a creation that was characterized by many as avant garde. After a year, her participation in the Athens Exclusive Designers Week created a sensation.  Last March, her collection of oh-so-chic! clothes and accessories came directly out of the 50's Parisian scene.  The collection with the name "Fairy Dust" was a nostalgic trip down the charm and elegance road.  As a result, both the outfits and the carefully choreographed presentation won her the award for Best Catwalk.
This October she introduces the modern nomad with a series of translucent fabrics and tribal accessories dedicated to women who move through life with poise and authenticity: a time traveler's guide to must-wear.  Emerald and lime, tangerine and burgundy, her new creations are alluring, entrancing and about to conquer our world...