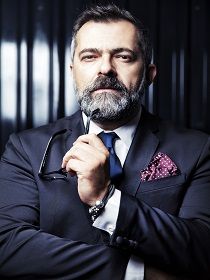 GIO SOURGIADAKIS
[Designer]
GIO SOURGIADAKIS
[Profile]
Giorgos Sourgiadakis was a child with charisma. He was born and grew in Athens, into a traditional family.
His love with the quality of clothes and the good looking appeal, helped him to make the next move for his life and career.
After working as a freelancer for different big companies at Greece & Europe, he decided to launch his personal collections. Together with his wife, Rena Sidiropoulou, they now lead two Brands. Me & My, which represents the casual man and GIO.S which targets a younger target group.

His inspiration comes through different channels and he always try hard, to keep his eye clear and his mind above his competitor. The numbers do say, that he manages that with success.