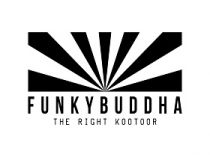 Funky Buddha
[Designer]
Funky Buddha
[Profile]
Funky Buddha brand was founded in 2006 through the passion and intuition of two young
brothers and entrepreneurs from Europe - Greece.
What started off as a casual business trip for them, turned into an epic adventure through the highs and lows of the Far East.
Seeking initially to research business opportunities, a delay at a local train station resulted in a major detour. They returned from it with crates and stories!
The rising sun flag became the brand's symbol and an inspiration for what has become a highly successful idea:
to make great garments that suit every individual, reflect ones personality and make you feel at ease.
The brand was launched during the summer of 2006 and its tees and cargo shorts became
directly a hit, surpassing expectations and setting the standards for further expansion of the
brand. In just a few short years and with the collection becoming richer and more complete the commercial success of the European company took off.
Funky Buddha has become in a short period of time the cult brand for those who love to wear clothes inspired by values such as freedom, respect for the individual and respect for the environment.