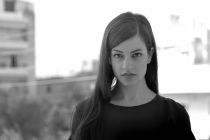 Fotini Lgk
[Designer]
Fotini Lgk
[Profile]
Fotini Lagaki was born and raised in Athens, where she also lives.  She started painting, designing, constructing items and sewing clothes from a very young age.
She studied interior design and architecture at the Technological Educational Institute of Athens, specialising in textile designing. Alongside with her studies, she studied freehand drawing, fashion design at Central Saint Martins, pattern cutting and sewing at Theia Lab, photography, graphic design and screen printing.
Those fields of study combined as well as her love for geometry, created an amalgam of wide knowledge with many digital and traditional art forms. Thus, leading to finding balance in expression via fashion design, garment manufacturing and textile designing.