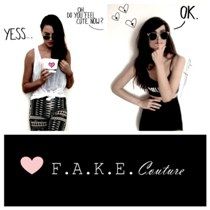 F.A.K.E by e-outfit.com
[Designer]
F.A.K.E by e-outfit.com
[Profile]
German origin Dominga was born and raised in Athens. Her working career began as a flight attendant for a well known Airline company but soon her artistic talent and skills inevitably drove her to study Fashion Design.
Mari Κ. was brought up in Luxembourg and studied at the European School. During her university degree in Marketing & Communication at the Athens University of Economics she studied at the same time Fashion Design.
The creative encounter of the two close friends and future associates took place at Veloudaki Fashion School in 2007. After instantly bonding Mari & Dominga soon began to realize that they shared a common vision and taste in fashion.
The skills each one possessed would prove invaluable for their upcoming project. The dynamic duo was armed and ready for action!
Soon after their graduation from Fashion School they decided to join forces and create their very own fashion e-shop: www.e-outfit.com.
E-outfit offers a selection of must have garments that a fashionista would strive to find elsewhere, to the own-label brand "F.A.K.E. Couture".                                                                                                   F.A.K.E. stands for Feel-Act-Know-Everything and represents the dynamic spirit of the young urban woman.                                                                                                                                                                      In addition, www.e-outfit.com is a platform to encourage creativity and support Greek fashion. New designers are offered the chance to promote and sell their creations, exclusively online through the website.
With great attention to designs, fabrics and quality service, the mission of www.e-outfit.com is simply to offer the best online shopping experience.

THE COLLECTION:
The debut collection of F.A.K.E. Couture by e-outfit.com for the AXDW F/W 2013 is entitled "The Sovereignty of Shimmer".
It is inspired by the dynamic modern woman, exuding glamour and spunk. Elements from the 80's era - the designers' favorite fashion decade - strongly feature within the collection.
As "Mix 'n match Masters" and "Glitter Addicts" the collection consists of a full range of items from day-to-evening wear including crystal embroidered leggings, cut-out bodies, playful t-shirts and glam jackets.