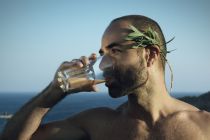 Erotokritos
[Designer]
Erotokritos
[Profile]
October 2010 - Erotokritos presents his S/S 2011 collection around the theme of French Nouvelle Vague and creates a film around it which is presented during Paris Fashion Week. The film is called La Lutte de L'Amour and its avant premiere is scheduled on the site of VOGUE ITALIA in February 2011.
2010 - Opening of 3rd shop in Paris at 109 Boulevard Beaumarchais in the Marais. In June Erotokritos is invited in La Sorbonne for a lecture around Fashion and Business of Fashion.
2008-2010 - Erotokritos takes his Master's in Global Fashion Management at the IFM (French Institute of Fashion), during which he participates in a 3-week program in New York and another 3-week program in Hong Kong for fashion mareting and technology.
2008 - French ELLE magazine invites Erotokritos to present his favourite places in Paris.
2006-2007 - Erotokritos is invited by two French retail institutional brands Monoprix and shoe maker André to design two capsule collections.
2005 - Opening of corners in the prestigious Parisian department stores Bon Marche & Galeries Lafayette.
2004 - Opening of a second boutique in Paris and launching of his Mens' collection.
2002 - Invited by Shiseido in Japan.
2000 - Fashion presentation at the prestigious Pompidou Center in Paris.
1998-2000 - Shiseido assigns Erotokritos to become their marketing and fashion consultant in Paris.
1996 - Creation of the Erotokritos brand, which was launched during Paris Fashion Week. Opening of the first shop in Paris.
1993-1996 - Internships at Martine Sitbon Paris, Helmut Lang Paris, Thierry Mugler Paris, Vivienne Westwood Paris.
1990-1993 - Bachelor in Fashion Design at Studio Bercot in Paris.
1988-1990 - Creation of Cotton Basics beach and casual wear in Nicosia Cyprus.
1986-1990 - Bachelor in Fine Arts & Textiles at California College of Arts.