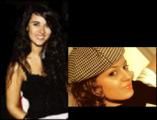 DuVo
[Designer]
DuVo
[Profile]
The creative team of DuvO - Evagelia Kappa and Evelina Litina - made an impression when they presented their work at the International Fashion Contest "Create Europe" in Berlin, during the 7th Greek Fashion Week. At the 5th AXDW, with their first collection, they aspired conquering the Greek audience with their creative proposals that were based on three elements: casual, prêt-a-porter and deluxe.
The raw materials used for the specific collection - broccar, synthetic fur, jersey, velour and elastic gabardine - together with their color palette of black, white, grey, red and yellow, comprise the basis of a feminine but powerful collection.
The lines chosen for the dresses, skirts, pants, shirts, coats and furs are minimal, providing a multidimensional character to the clothes and allowing women to create new compositions depending on occasion and the mood of the moment.