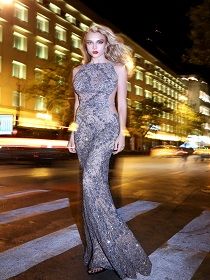 Christina Zafeiriou
[Designer]
Christina Zafeiriou
[Profile]
Christina Zafeiriou was born and raised in Athens by Greek-American parents.  Having international influences,   her inclination to fashion was evident from a young age.
Through free and the line drawing, Christina took the main knowledge and she continued in fashion design studies, costume and styling.
Starting from Athens, her talent and her ideas, led her to Paris and the renowned fashion school "Esmod".
Finishing "Esmod" Paris with the best recommendations, Christina participated in specialized seminars.  Footwear and jewelry manufacturing expanded the range of her capabilities, establishing her officially in fashion.
Armed with knowledge, meticulous work, the best materials and the optimism that distinguishes her, Christina Zafeiriou created and will present her first couture collection "C E R E S" SS 2017.