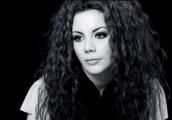 Christina Skarpeli
[Designer]
Christina Skarpeli
[Profile]
She was born in Athens in 1987. She started painting at the tender age of 8. After 6 years, she was convinced that she was made to design and create. During her studies as a graphic designer, she started experimenting on the creation of jewellery and accessories made with various materials. She spent 1 year doing preparation for qualifying examinations for the School of Fine Arts, but the fashion world won her over.
She studied in Athens Fashion Academy side by side with Dimitris Strepkos and then worked as an assistant for Celebrity Skin team, stylist and columnist in fashion magazines, like Theta MAG, Nicolas Magazine and e-Merge Magazine. Her latest collection is called "Artificial Utopia". Inspired by expressionism and the life rhythm born from the centre of Athens.
Her creations are a mix of avant garde and urban culture and the materials she uses are leather, vinyl, lace, plastic and glossy small details.