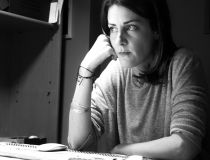 Chloe Moumbaris
[Designer]
Chloe Moumbaris
[Profile]
Born in France to a Greek from Egypt father and a French mother, her childhood years were motivated by an extreme curiosity to learn about the origin of things. From what she learned from her parents, her experiences from her travels, but also her studies at the Faculty of archiecture of La Vilette in France and at AKTO in Athens, in the Section of Fashion Design, strengthened her drive for research and discovery.
This spirit of curiosity, search for knowledge, as well as her interest in the subject made her focalise her work in what is considered essential for a fashion designer: the quest for symbolism in the raw material, the thread, as well as its role in the development of culture.
All these elements led her to combine geometric and clear forms, by means of traditional knitting techniques, colours and textures, attempting to express thus her vision of the modern world.
Her wish: that her work will attract the interest of other researchers and students to this outstanding art of fashion-design.