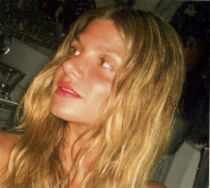 Celia Dragouni
[Designer]
Celia Dragouni
[Profile]
Celia Dragouni is a Greek fashion designer. She has studied fashion and textile design at Parsons (Paris) and fine arts at Chelsea College of Art (London), while she has worked for Sonia Rykiel in Paris for almost two years. After returning to Greece, she has launched her own brand.
"It's all about inspiration and influences". When traveling, Celia gets inspired by the embroideries and traditional elements she discovers and creates collections with "cool, easy going" bohemian women in mind.
Perfect for wearing from morning to past sunset, her creations are defined by flowing silhouettes and handcrafted details.
"My woman is a hippie chic woman, elegant but simple."
The fabrics she uses are mostly silk, velvet cotton and hand woven textiles, with patterns from different cultures.