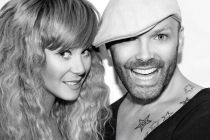 Celebrity Skin
[Designer]
Celebrity Skin
[Profile]
Celebrity Skin (head designer Dimitris Strepkos and his assistant Eleni Mparla) since 2009 have presented 12 collections at AXDW.
Their trademark is avant garde clothing, mostly handmade, with commercial elements. They are always in pursuit of new techniques, mixing and experimenting with moulage and pattern.
Wool, lace, wood, pearls, crystals are some of the materials they used through the years.
"Dare to wear" and "Luxury you can afford" are their mottos.
Celebrities trust their creations for their most important events.
Celebrity Skin adore theatre and have created costumes for over 30 theatrical plays.
Significant international and Greek magazines have included their creations in their editorials.
The new collection is titled "hUmAn", it's still edgy, airy, dark, but the most humanist approach of their garments so far.