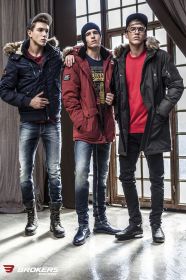 Brokers
[Designer]
Brokers
[Profile]
Brokers Jeans company was established at Thessaloniki in 1984. It continuously expands its operations but mainly focuses in the designing, production and sales on men's clothing.
Today, with the private owned premises of 6.500s.m., the company maintains a durable presence in the Greek clothing fashion, specializing in the youthful, qualitative and timeless clothing.
Modern and stylish clothing of good quality and competitive prices for all times and for the raising rhythms of a demanding city. This is the philosophy that characterizes the company since 1984.
Brokers Jeans belongs to the most distinctive companies among the Greek clothing industry.  Its huge experience in the fashion area in combination with a high amount of sales on both wholesale and retail basis throughout Greece, Cyprus and several other countries abroad give the company a distinctive competitive advantage!