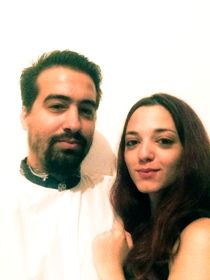 BOLD & Locked
[Designer]
BOLD & Locked
[Profile]
The initial idea about the creation of this team dates back to our college years in Thessaloniki. While recognizing different stimuli but staying motivated by the same passion and consistent orientation towards hard work, we decided that counterbalancing our aesthetic and disparate elements should become our point of reference. Thus, we formed the BOLD & Locked team, hoping to channel the need for expression of what moves and inspires us.
LimouraKalliopi, carrying on the family tradition in the ready to wear clothing, studied fashion design. Today she is working in garment industry, designing and producing garments for the account of multinational fast fashion companies.
FoteinosNicolaos, studied art restoration. Then, his passion for garments, led him to study fashion design, while simultaneously he focused on painting abstract art.