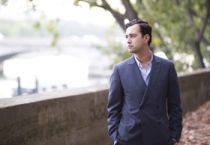 Angelos Bratis
[Designer]
Angelos Bratis
[Profile]
Born in Athens in 1978, Angelos was raised in his mother's atelier. He first studied fashion design in Athens before winning a place at the Fashion Institute Arnhem, MA course, in the Netherlands. In January of 2003 he presented his first collection during Paris Haute Couture week. He has collaborated with fashion houses in Paris and Rome and has presented his eponymous line in fashion weeks around the globe from New York to Paris, Amsterdam, Rome and Athens.
Angelos adores the true sense of craftsmanship as well architecture and geometry. Works his forms directly on the mannequin to create a fashion of 360 degrees. Lightness and movement never lack his garments where he wishes to be perceived as effortless, no matter if most of the time, this is a result of a complex simplicity. As a designer he has participated in several fashion, art and architecture exhibitions and has taught his passion for draping at Akto Design School in Athens and at IED and Accademia di Costume e di Moda in Rome.
In July 2011 Angelos won the first prize of the "Who Is On next?" competion for emerging fashion designers in Rome, where he lives, organized by AltaRoma and Vogue Italia. The international jury was composed by important names of the fashion industry as Suzy Menkes (International Herald Tribune), Franca Sozzani (Vogue Italia), Mark Holgate (Vogue USA), Terron Shaefer (Saks Fifth Avenue) and Averol Oates (Harvey Nichols). His winning brought him international press acclaim and a special collaboration with the italian major internet retailer Yoox.com.