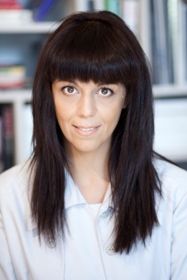 Andreea Tincu & Sense
[Designer]
Andreea Tincu & Sense
[Profile]
Romanian designer Andreea Tincu with over ten years experience in fashion creates both catwalk and casual collections. With every new thing she creates, she is adamant not to copy herself and she is constantly on the lookout for new sources of inspiration.
Under the name Andreea Tincu & Sense, many collection have been presented on both national and international catwalks since 2007 (Vienna, Kiev, Zagreb, Sarajevo, Palermo, Amsterdam, Bucharest).
These collections have a carefully studied construction and what the designer is keen to do is to discover new territories, to suggest new avenues in terms of technical solutions.
Andreea Tincu loves geometry, minimalism, pure lines, purged of any unnecessary details and refined chromatic combinations.